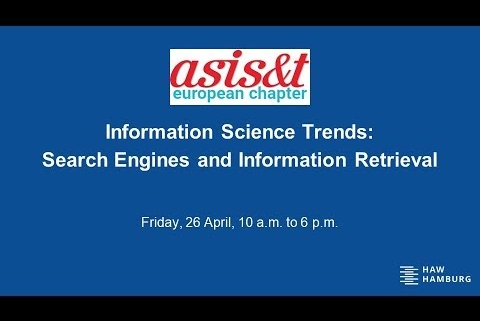 Visual Trend Analytics@Information Science Trends: Search Engines and Information Retrieval
The event "Information Science Trends: Search Engines and Information Retrieval", organized and hosted by the European Chapter of the Association for Information Science and Technology, focuses on certain research topics introduced by invited speeches from research and industry. The major covered research areas are:
Retrieval research on web search engines, web services, professional information services, social media
Information seeking behavior
Information retrieval
Discovery systems
People interacting with search systems
Searching in the library and other scientific contexts
Understanding user behavior
Additionally, they will provide networking space to energetically share ideas and interests from the fields of information science and related disciplines.
At this event Prof. Dr. Nazemi gives a speech on "Visual Trend Analytics in Digital Libraries", in particular, based on the experiences with the own developed Scitics solution. Here he gives an overview about current research actions and challenges toward visual trend analysis, but also on opportunities and benefits for companies. In particular, the digitalization challenges a number of small and medium-sized enterprises to be aware of modern technologies and trends that revolute the market or impacts the current businesses
The event takes places on April 26, 2019, at the Hamburg University of Applied Sciences in Hamburg, Germany.
More information about the event can be found on the event website or on the organizers website.
https://vis.h-da.de/wp-content/uploads/2019/04/InformationScienceTrends.jpg
360
480
Dirk Burkhardt
https://vis.h-da.de/wp-content/uploads/2019/10/LG0_vis_RG_light_Blue_huge_cutted-300x145.png
Dirk Burkhardt
2019-04-26 06:00:23
2022-02-03 11:50:44
Visual Trend Analytics@Information Science Trends: Search Engines and Information Retrieval