Our research team works on a variety of technical solutions and also experiments with new upcoming techniques and approaches. However, we currently develop on two major technologies.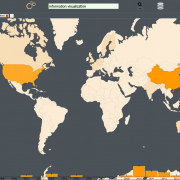 For an optimal trend analysis the data basis is significant. Publication databases provide a solid foundation as they address new technologies and methods early on, before products are on the market. Often, medium-sized and large companies also have their...
With SmartEval, a smart evaluation solution, it works effectively and yet without much effort and costs. The core idea is a smart, distributed evaluation software that allows one to examine one's own website / web application itself or in comparison with...
Beside the named main technologies, we still investigated effort in further technologies:
Fintech solutions to forecast stock market prices due considering a variety of data such as social media.
Social Media Analysis solutions to summarize discussion in its major positions and to follow up the discussion track.
As an established player in the Research and Development domain, we are always open for cooperation. With our many years of experience, we have the right services to support you and your business to master current market challenges. [Read more]