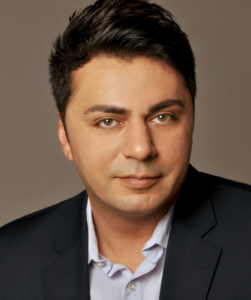 Prof. Dr. Kawa Nazemi
Head of Department
Full professor for Human-Computer Interaction & Visual Analytics
Contact
Faculty of Media
Director of Information Science
Head of Research Department Human-Computer Interaction & Visual Analytics (vis)
Head of Research Department Artificial Intelligence & Visual Analytics (IKUM)
Deputy Director of the Research Center for Applied Informatics (FZAI)
Doctoral Center for Applied Computer Science
Research Center for Digital Communication and Media Innovation (FZ-DKMI)
Kawa Nazemi is a full professor of Human-Computer-Interaction and Visual Analytics in the faculty of Media of the Darmstadt University of Applied Sciences and, since 2017, director of Information Science for undergraduate and graduate studies at the Darmstadt University. He is an Adjunct Senior Lecturer at the Munster Technological University in Cork, Ireland, and the Technische Universität Darmstadt (TU Darmstadt) and a member of the Hesse-PhD-Center for Computer Science.
He started with research and development in 2007 at the Fraunhofer Institute for Computer Graphics Research (IGD) and worked there until he was appointed professor in 2016. At Fraunhofer, he worked in the Information Visualization and Visual Analytics department. He led the research group "Semantics Visualization" for many years, focusing on user-centered and user-adaptive intelligent visualizations. He developed with his group the SemaVis technology, a price-winning, web-based visualization that adapts to the individual demands of users. SemaVis can perform the entire transformation process from raw data to interactive and intelligent visualizations and is applied to many projects and enterprises.
Kawa Nazemi holds a Ph.D. (Dr.-Ing.) in computer science from the Technische Universität Darmstadt entitled "Adaptive Semantics Visualization". He was responsible for several European and national projects and worked on various industrial research contracts. He has more than 100 publications co-authored, is a member of various program committees and editorial boards, and serves as a reviewer for various journals and conferences. His research was awarded, amongst others, by the Academia Europaea with the Burgen Scholarship Award and the European Association for Artificial Intelligence. 
Projects
Current Projects

Previous Projects

FUPOL
SmarterPrivacy
Signal Tracing
RURALeNTER
VIntEL
Merck
Research Topics
Visual Analytics
Information Visualization
Data Analytics
Maschine Learning
Intelligent Human-Computer Interfaces
Human-Computer Interaction
Intelligent Information Systems